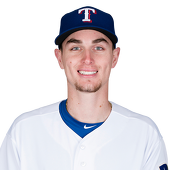 FANTASY ANALYSIS

NEXT
|
PREV

Posted 6 hrs ago. via rotoworld.com
Carlos Tocci has been informed that he'll make the Rangers' Opening Day roster. Tocci was a Rule 5 draft pick in December, so he has to be on the 25-man roster or disabled last all year, or the Rangers will have to offer him back to the Phillies. [...]
BLOG / COLUMNIST

NEXT
|
PREV

Posted 29 days ago. via Official Texas Rangers
Carlos Tocci is a Rule 5 Draft pick, taken by the White Sox from the Phillies' organization and then traded to the Rangers for cash considerations. Tocci has to make the Rangers Opening Day roster or be offered back to the Phillies.
VIDEOS

NEXT
|
PREV

Add or Drop Carlos Tocci?
Top
The current trend indicates that there has been minimal movement in terms of ADDS or DROPS for Tocci. In the past week his own percentage has increased by 0.83% . Meanwhile his start percentage has increased by 20% .
In the past 30 days, the highest own percentage for Tocci is 9.28% and his lowest is 0.33%. In terms of start percentages, his highest start percentage is 20.00% and lowest is 0.00%.
Carlos Tocci Injury News
Top
DATE
OPP
H
HR
R
RBI
SB
BB
AVG
PTS
Diff.
Totals:
0
Carlos Tocci Fantasy Graph
Top
Fantasy Chart Loading...