Feature Overview
Analyze Trades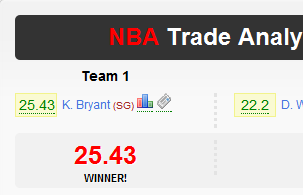 Our industry leading trade analyzer take into account raw statistical numbers, fantasy league scoring systems, player expectations, and performance trends. We also compare your player's performance to other similarly positioned players. We simplify it all down into a number rating plus a detailed analysis on how we came to it. Available for the MLB, NFL, NBA, and NHL.
Analyze trades for a comprehensive analysis of the winner.
Easy to Use, Yet Powerful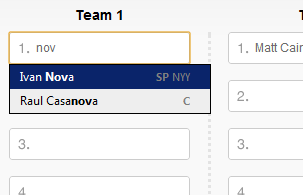 Our trade analyzer was designed from the ground up to be easy to use. Type in the names for your trade and let us handle the rest of the number crunching. Those of you on mobile, will experience the same powerful trade analyzer specifically designed to work with your mobile phone.
Our Trade Analyzer is easy to use on mobile or your desktop
Impacts of Trade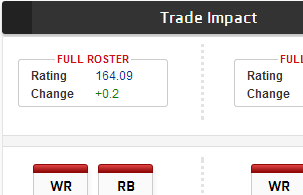 Sync your fantasy league(s) to see how your proposed trades effect both teams. We will show you how it impacts each position and each team's score. We also provide detailed statistical analysis on how each category is impacted. Does your batting average suffer? Does your opponent actually get the better end of the deal? Answer those questions and many more... available for the MLB, NFL, NBA, and NHL.
Our powerful trade analyzer shows how it impacts each team. Plus, share these personalized trades with your friends.