Feature Overview
Sync Fantasy Leagues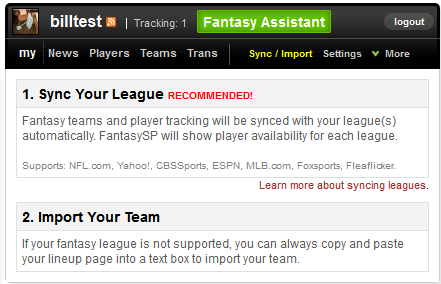 We support syncing from CBSSports, Yahoo!, ESPN, NFL.com, MLB.com, FoxSports, and Fleaflicker. We grab your league details automatically. To sync, all you need to have is your league URL and we'll handle the rest.
Syncing your league is the first step to unlocking our site's features.
League Rosters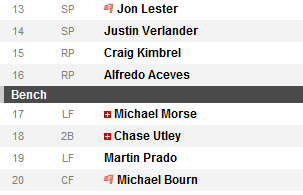 We automatically update your entire league's roster at least once per day. We know who is on your bench, injured reserve, and starting lineup. Anytime you make a roster move, we automatically add or remove that player from your tracking list.
Paying members get additional benefits, such as updates every 3 hours.
League Transactions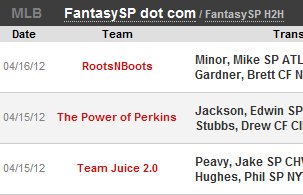 We collect waiver wire transactions in each league and notify you via the website (or email) of a new transaction. The red number indicates how many new transactions have been collected since you last looked.
Staying on top of the waiver wire is easy, no matter how many leagues you are in.
My Player News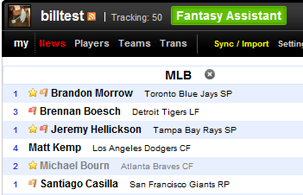 Your player news is front and center on the top right of the page. Players appear here with the number of stories you have missed. Mouse over their name to read more. The red flag

indicates stories within the past hour and orange

for the past 3 hours. A player with a star

next to his name indicates he is on your favorite team.
We collect news from dozens of top sites to save you research time.
Player Availibility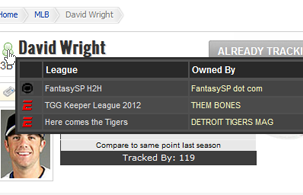 Player availibility icons tell you who owns each player and in what league. Green

indicates you own him, red

indicates another team, and gray

indicates a free agent. We even provide direct links to each synced fantasy league's player page.
Managing players in multiple fantasy leagues is a snap.
Favorite Team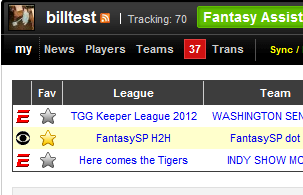 We give you the option to specify a favorite league in each sport. This indicates to us that it should take priority in league updates. Player availability icon colors will reflect ownership in your favorite league. My News will include a star

icon next to players on your favorite teams.
Your favorite teams take priority.